Kings Lynn
From Coastal Wiki
Kings Lynn
Administrative Port: Grimsby
County: Norfolk
Population: 46,093
King's Lynn is a sea port and market town in the county of Norfolk in the East of England. It is situated 97 miles (156 km) north of London. King's Lynn has always been a centre for the fishing and seafood industry (especially inshore prawns, shrimps and cockles). There have also been glass-making and small-scale engineering works (many fairground and steam engines were built here), and today, it is still the location for much agricultural-related industry including food processing.[1]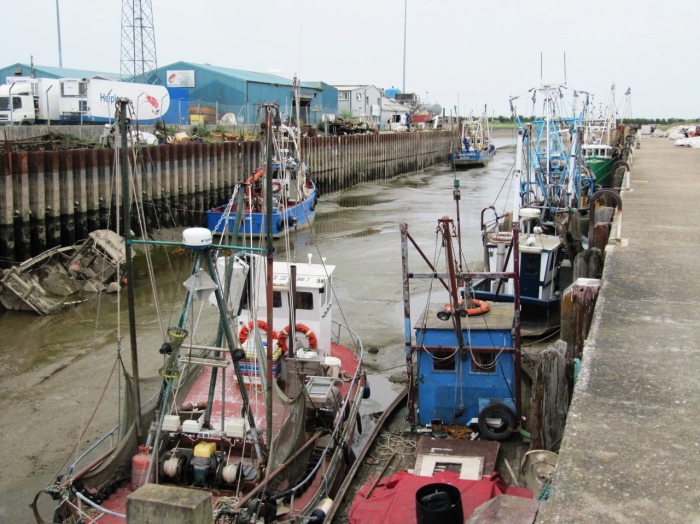 Picture: Fishing boats of Kings Lynn (Author: GIFS Researcher Photography)
Video: Kings Lynn Shrimp boat (1960's). "Men on board a small commercial fishing boat from Kings Lynn are seen cleaning and boiling shrimps, using traditional equipment that has clearly seen long use."
Background information
Fishing Fleet
Vessel type 1
6
Fishing Fleet
Vessel type 2
17
Fishing Fleet
Vessel type 3
Fishing Fleet
Vessels total
23 [2]
Landings
Total Landings (tonnes)
Demersal (tonnes)
Landings
Total Landings (tonnes)
Pelagic (tonnes)
Landings
Total Landings (tonnes)
Shellfish (tonnes)
Landings
Total Landings (tonnes)
Main species (tonnes)
Landings
Total Landings (tonnes)
All species (tonnes)
Landings
Values
Demersal
Landings
Values
Pelagic
Landings
Values
Shellfish
Landings
Values
All species
Landings
Number of fishermen
Number of fishermen (Regular)
Landings
Number of fishermen
Number of fishermen (Part-time)
Landings
Number of fishermen
Number of fishermen Total
Landings
Major fish species
Landings
Landing points
Landings
Location of auctions
Governance and organisation
Governance
Eastern Inshore Fisheries and Conservation Authority (IFCA), 6 North Lynn Business Village, Bergen Way, King's Lynn, Norfolk PE30 2JG
Governance and organisation
FLAG
Governance and organisation
Location of fishermen's organisations
King's Lynn Fishing Industry Co-Operative, Trues Yard, North Street, King's Lynn, Norfolk, PE30 1QW
Branding
Brand labels
Fish as food
Fish selling
Fishmonger: Donaldsons, Austin Fields, King's Lynn, Norfolk PE30 1PH
Fish as food
Fish processing
Cole's of King's Lynn, Unit 15–19, East Coast Business Park, Clenchwarton Road, West Lynn, King's Lynn, Norfolk PE34 3LW
Fish as food
Restaurants/hotels
Tourism & Education
Tourism & Fishing
Tourism & Education
Festivals
Tourism & Education
Fishing museums
-True's Yard Fisherfolk Museum, North Street, Kings Lynn, PE30 1QW
-The King's Lynn Maritime Trail
Tourism & Education
Aquariums
Tourism & Education
Monuments
The Beautiful Star - memorial to eight Scottish Fishermen who drowned on the Norfolk Coast in the November Gale, 1875
Tourism&Education
Fishing training School
Vessel type 1: <10 m vessels

Vessel type 2: >10 m vessels
References